LinkedIn is one of the most powerful networking tools today. With more than 740 million members, it's the largest professional community online that can help you connect with employers, entrepreneurs, business people, and various experts in almost any industry. Many people have used LinkedIn to grow their network and make valuable connections, which is great. But only being able to access those contacts on the platform can be a bit limiting. Luckily, you can export LinkedIn contacts and extract the most critical information in just a few minutes. Let's look at some of these methods below. But first, let's go through some of the reasons why you should consider exporting LinkedIn contacts in the first place.
Why Does It Make Sense to Export LinkedIn Contacts?
LinkedIn is a powerful and relatively convenient platform for networking and connecting with leads or people you want to work with. So why should you bother exporting your contacts?
Well, even though LinkedIn can be very useful, it has plenty of limits as well. For starters, most people don't spend a lot of time on the platform, only dropping by once in a while to check in on what's new and who might have reached out.
When you want to connect with someone quickly, waiting for them to answer is tricky. And if you don't have them in your contacts yet, that can become even more challenging, as they might not even notice your request.
Meanwhile, if you export your contacts (or even details from people you aren't connected with), you can reach them through email or phone, which is a much more immediate way to get a response and start the conversation.
Another reason to export your contacts is security. You can spend years building a network of peers, partners, and clients, which takes a lot of effort. If something were to happen to LinkedIn or even if your account got suspended for any reason, you would lose all of that work forever if you didn't have a backup.
Finally, many people you might want to talk to don't consider LinkedIn a reliable way to communicate. The unfortunate truth is that LinkedIn is full of spammers that bombard inboxes with poorly crafted sales pitches.
To avoid your message getting lost, taking the contact details from LinkedIn and reaching out directly is your best bet.
Top Tools for Exporting LinkedIn Contacts
Even though LinkedIn can be a bit inconvenient, the good news is that there are multiple ways you can extract LinkedIn contacts and gain access to the decision-makers in any company.
Some of these methods are free, with one even offered by LinkedIn. But there are also paid options that provide more bang for your buck or even allow you to outsource the process to experts who will handle it for you.
Let's explore five of the top methods you could use below.
TaskDrive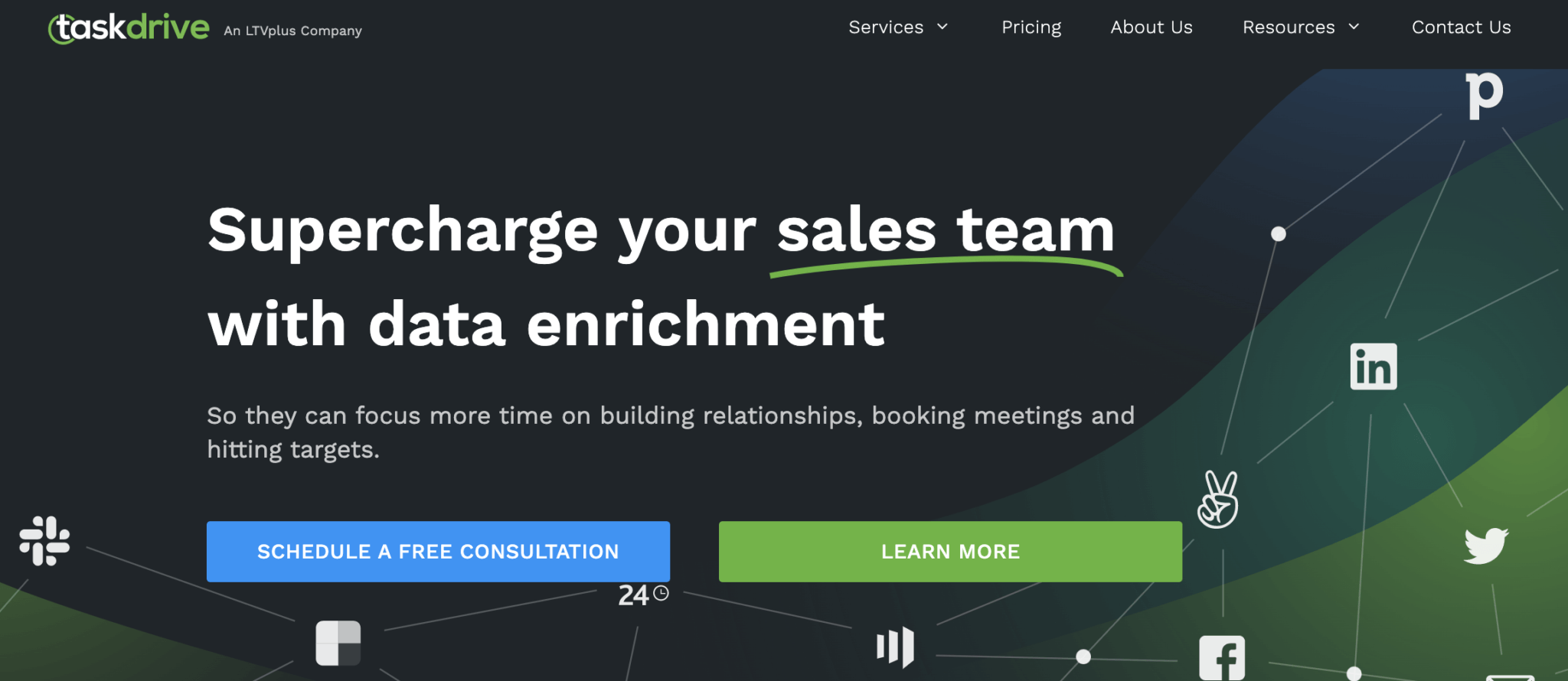 Using LinkedIn to grow your business is hard work. The time it takes to create an appealing profile, establish authority through content, and build relationships through targeted outreach can be too much to handle for busy entrepreneurs and owners who have a lot on their plate.
And then there's the fact that using LinkedIn isn't as simple as it looks. The platform is becoming more crowded each year, so the bar for the content that gets shared and the profiles that get noticed is increasing as well.
Luckily, services like TaskDrive can take over the entire LinkedIn social selling process for you.
We will put together an individual strategy for your business, setting up or revamping your current profile and aligning it with the types of leads you want to attract. Here are the core services you can expect:
The TaskDrive team will optimize your profile to make it rank higher on Google and attract the attention of your ideal customers.
Then, they will create various visual assets and copy for LinkedIn, designed in a way to generate attention and expand your network and reach.
Finally, TaskDrive will interact with your connections on your behalf, commenting on posts and participating in discussions in your industry. This will establish you as an expert and build the relationships you can then leverage into leads, partnerships, and more.
Finally, TaskDrive will prospect leads for you and run targeted outreach campaigns on LinkedIn, qualifying leads for you that you can then add to your nurturing sequences and sales funnels.
While this service isn't like most others on this list, it could easily become the most powerful LinkedIn tool at your disposal. By building a stronger LinkedIn presence and growing your number of connections, you can ensure that the contacts you do export actually matter and can propel your business growth.
Free LinkedIn Method
LinkedIn provides its own method for extracting basic contact data through the platform. And if you just want to make sure that you at least have the names and some information, this method might be enough.
And the good news, taking advantage of this approach is very easy and doesn't require any tools. You can be done in less than five minutes and download the complete contact list in less than 24 hours once it's ready.
Let's look at the process step by step:
First, click on the "Me" icon on the top right of the screen, and select the "Settings & Privacy" option from the drop-down menu. You will be taken to another screen that shows more options.
Then, make sure the "How LinkedIn uses your data" section is clicked on the left side, and select "get a copy of your data" from the menu by clicking "Change."
You will then be able to choose what data you want to export or just select to export everything that LinkedIn has about your profile and your contacts. 
According to LinkedIn, your download should be ready in around 24 hours, which is when you can access your data and use it outside of the platform.
However, as you can probably imagine, the type of data you can get using this method is somewhat limited. LinkedIn has to adhere to GDPR and other regulations, which means information like email addresses or phone numbers won't be available unless the person you're connected with gives express permission to share it.
You will get basic information about your contacts, such as their names, company, position, and the date you connected.
You will also only be able to export the data from people with whom you are already connected. And that can be limiting if you want to get the details of someone who hasn't connected with you yet. 
SignalHire
SignalHire is one of the most powerful tools for finding the email addresses and phone numbers of almost any business lead online. And since LinkedIn revolves around making professional connections, it's not surprising that one of the most powerful features this tool offers is the ability to export LinkedIn contacts.
Let's look at how you can get started.
First, you'll need to go to their website and create or connect your account. After filling out some details, you will be taken to the main dashboard which offers a ton of features.
You will then be prompted to install the SignalHire Google Chrome plugin. You will need the plugin if you want to access the data from your LinkedIn contacts, so install it. 
Then, head to LinkedIn and go to the profile of someone you want to reach. Click on the extension in the upper right corner of your browser, and it will offer the option to "Reveal Contacts."
You will then see the most likely email addresses and phone numbers for that person. 
Sure, this approach might not be 100% accurate. But tools like SignalHire do have large databases of contact details, so you will at least have a few options that are likely to be correct.
You get five email credits per month on the free plan, but you will need to extract the contact details of your LinkedIn contacts manually. However, there are paid plans starting at $39/month which have bulk email extraction options.
With the paid plan, you can also export LinkedIn contacts directly into your CRM tool, which is a handy feature when you're dealing with a large number of leads you want to reach out to.
Phantombuster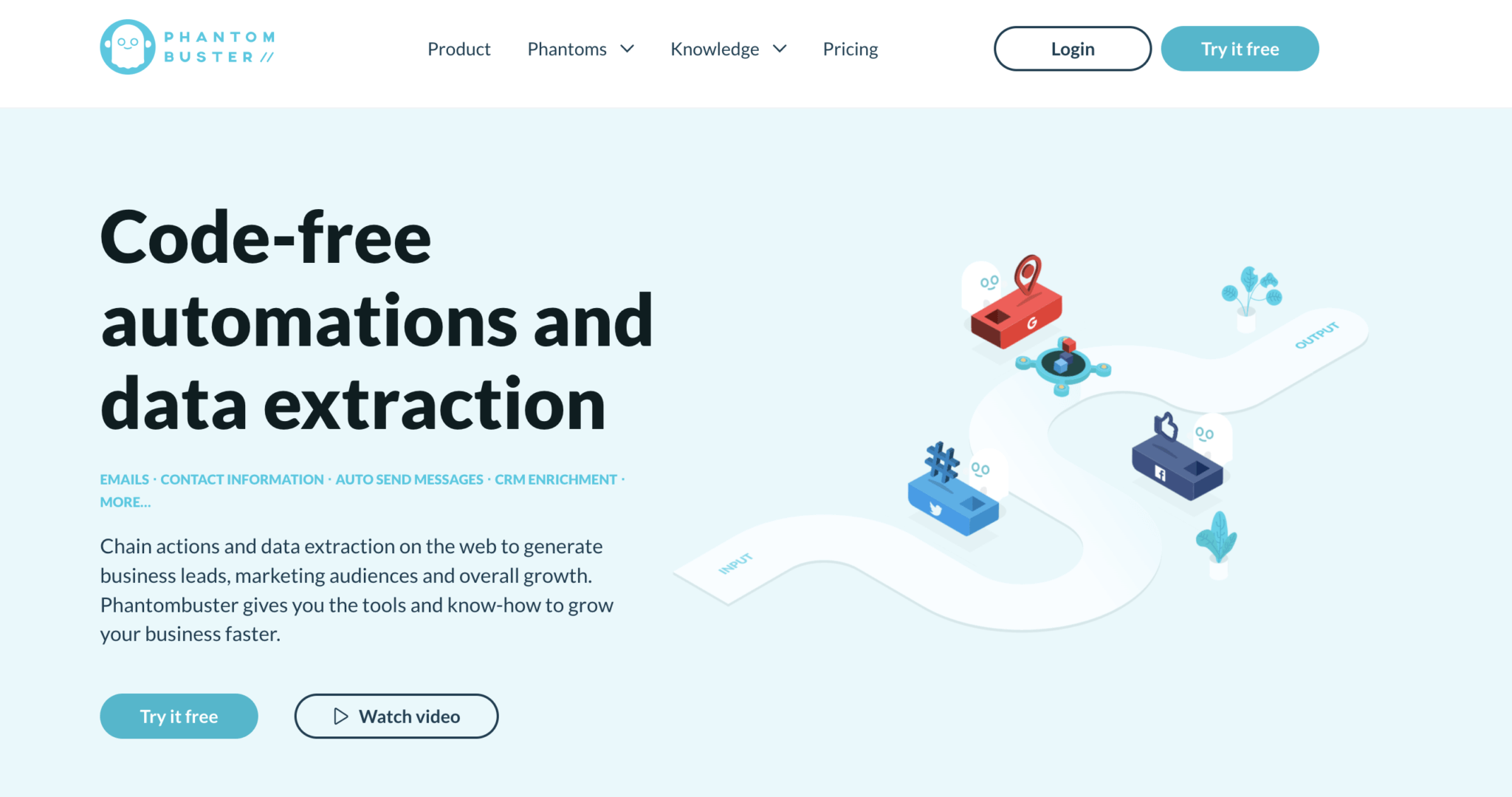 Phantombuster is an automation and data extraction tool with a powerful LinkedIn profile scraper feature that's ideal for collecting contact information.
Whether you want to export LinkedIn contacts or scrape data from people you don't yet know, Phantombuster can provide a simple and convenient way to get accurate data and transfer it straight into your CRM.
The process of using Phantombuster's LinkedIn scraper is relatively simple.
Go to Phantombuster and download their Chrome extension. 
Then, go to the extension settings and paste your LinkedIn session cookie so that your account is linked with the extension.
Then, create a Google Spreadsheet with the list of profiles you want to scrape. This is very convenient since it allows you to export large amounts of profiles at once.
At this point, you will be asked to select how many profiles you want to scrape and what additional information you want to extract.
You will also need to choose an email discovery service to make the information more accurate. Phantombuster has its own option, but they also allow integration with 3rd party solutions.
Depending on how extensive your list is, you will need to select the duration of how long the scraping should take, as there's a limit to how much the app can do at once.
You will finally be taken to a page where you can press Launch and, after a few minutes, can download your CSV file with the results.
This is definitely one of the more robust ways to extract LinkedIn contacts out there because you can get a lot of information about basically anyone on LinkedIn.
However, the free plan won't get you very far, and you will need to spend anywhere from $30 to $900 per month, depending on how many contacts you want to scrape.
Snov.io
Snov.io is one of the most popular email finders on the web, and for a good reason. It's easy to use, affordable, and can usually provide accurate data on almost anyone.
Let's look at how to use it below.
First, go to the Snov.io website and sign up.
Then, click on the "Install Email Finder" button and go through the instructions to finish the installation.
Once installed, simply go to your LinkedIn page, find the person you want to contact, and let the app do its magic.
In a few seconds, the contact details should appear in your Snov.io dashboard, allowing you to reach out to the person directly.
Obviously, this isn't the most efficient approach if you want to export LinkedIn contacts quickly and at scale. But it works perfectly well for those who need to find someone's email.
While this tool won't export the entirety of the data about your contacts, you can combine it with the data exporting option that LinkedIn provides on the site and get a fuller profile you can then use.
However, this approach probably won't come close to what services like TaskDrive could offer since it won't just get you the contact information but will actively grow your network and attract the ideal customers to you.
In Closing
If you want to export LinkedIn data, there are many options to choose from. Whether you wish to back up your contacts from the LinkedIn dashboard, extract email addresses, or revamp your entire LinkedIn outreach strategy, there's a tool that can help you in every situation.
For best results, experiment with all the tools and services on this list to discover the right solution according to your priorities and budget.